DROPS THREE FRESH-CUT TRACKS:
"MISS THAT GIRL" + "UNHANG THE MOON" + "SONGS WE USED TO SING" OUT NOW
PRE-ORDER THE HIGHLY ANTICIPATED DELUXE ALBUM NOW
FLOWER SHOPS (THE ALBUM): Two Dozen Roses Album Art | Courtesy of Big Loud Records | Download Here
NASHVILLE, TENN. – Country music visionary ERNEST had a record year. After dropping his first full-length album FLOWER SHOPS (THE ALBUM) to critical acclaim in March, 2022 saw him earn his fifth, sixth, and seventh #1s as a songwriter while his debut single "Flower Shops" feat. Morgan Wallen simultaneously reached RIAA platinum certification. Most recently honored as one of Variety's coveted 2022 Hitmakers, the CMA Triple Play Award winner was also selected as a 2023 MusicRow Next Big Thing artist. Selling out his first ever headline tour across college towns this past fall, he rounded out a stacked year of touring on the road with labelmate Morgan Wallen as part of his record-breaking Dangerous Tour.
Now, the charismatic entertainer who "single-handedly discovered a way to unite old-school country enthusiasts with listeners that enjoy mainstream music" (CMT) is set to continue his "stunning return to country music's traditional essence" (The Tennessean) with deluxe album FLOWER SHOPS (THE ALBUM): Two Dozen Roses, due February 10. Building upon the project recognized as a top release of the year by Holler. and The Tennessean, ERNEST adds 13 more original songs to the collection "filled with retro country truth and relentless heartbreak" (Taste of Country).
"I can't wait for everyone to hear the new music," shares ERNEST. "It's even more of the real, honest storytelling that the album was built on, and continues the character's love story right where it left off with 'Some Other Bar.' It's very reflective, I think everyone will be able to relate to a part of the story in some way. I'm really proud of it!"
Pre-order FLOWER SHOPS (THE ALBUM): Two Dozen Roses here.
The lyrical innovator gives a taste of what's to come today with pained "Unhang The Moon," reminiscent tear-jerker "Songs We Used To Sing," and the poetic, pleading "Miss That Girl" and its accompanying official video. Directed by Justin Clough with a treatment conceptualized by his wife, acclaimed creative Delaney Royer, the video shot Columbia, Tenn., gives life to the track that yearns for relief from heartbreak.
"These first three are some of my favorites," ERNEST continues. "This is just a taste of what's coming, and hopefully hearing them makes everyone even more excited for what we have cookin'."
Listen to all three fresh releases here and watch the "Miss That Girl" official video here.
FLOWER SHOPS (THE ALBUM): Two Dozen Roses Tracklist
Sucker For Small Towns (Ernest Keith Smith, Jacob Durrett, Ashley Gorley)
Tennessee Queen (Ernest Keith Smith, Dan Isbell, Jordan Schmidt)
Classic (Ernest Keith Smith, Jacob Durrett)
Feet Wanna Run (Ernest Keith Smith, Chris LaCorte, Brad Warren, Brett Warren)
Comfortable When I'm Crazy (Ernest Keith Smith, Rodney Clawson)
Flower Shops (feat. Morgan Wallen) (Ernest Keith Smith, Ben Burgess, Mark Holman)
Did It With You (Ernest Keith Smith, Rodney Clawson, Nathan Spicer)
What It's Come To (Ernest Keith Smith, Lily Rose, Ryan Vojtesak)
If You Were Whiskey (Ernest Keith Smith, Michael Carter, Ben Hayslip)
Some Other Bar (Ernest Keith Smith, Ashley Gorley, Ryan Vojtesak)
Flower Shops (feat. Morgan Wallen) [Acoustic] (Ernest Keith Smith, Ben Burgess, Mark Holman)
This Fire (Ernest Keith Smith, Rocky Block, Julian Bunetta, John Ryan)
Wild Wild West (Ernest Keith Smith, Jacob Durrett, Rafe Tenpenny)
Hill (Ernest Keith Smith, Jordan Schmidt, Brett Tyler)
Burn Out (Ernest Keith Smith, Andy Albert, Jordan Dozzi, Hunter Phelps)
Nothin To Lose (Ernest Keith Smith, Mark Holman, Josh Osborne)
Songs We Used To Sing (Ernest Keith Smith, Justin Ebach, Charles Kelley)
Done At A Bar (Ernest Keith Smith, Josh Thompson)
Drunk With My Friends (Ernest Keith Smith, Jordan Schmidt, Josh Thompson)
Anything But Sober (Ernest Keith Smith, Alysa Vanderheym)
What Have I Got To Lose (Ernest Keith Smith, Brian Kelley, Dean Dillon)
Heartache In My 100 Proof (feat. Jake Worthington) (Ernest Keith Smith, Jordan Schmidt, Josh Thompson)
Unhang The Moon (Ernest Keith Smith, Grady Block, Brad Clawson, Jacob Durrett)
Miss That Girl (Ernest Keith Smith, Brad Clawson, Jacob Durrett)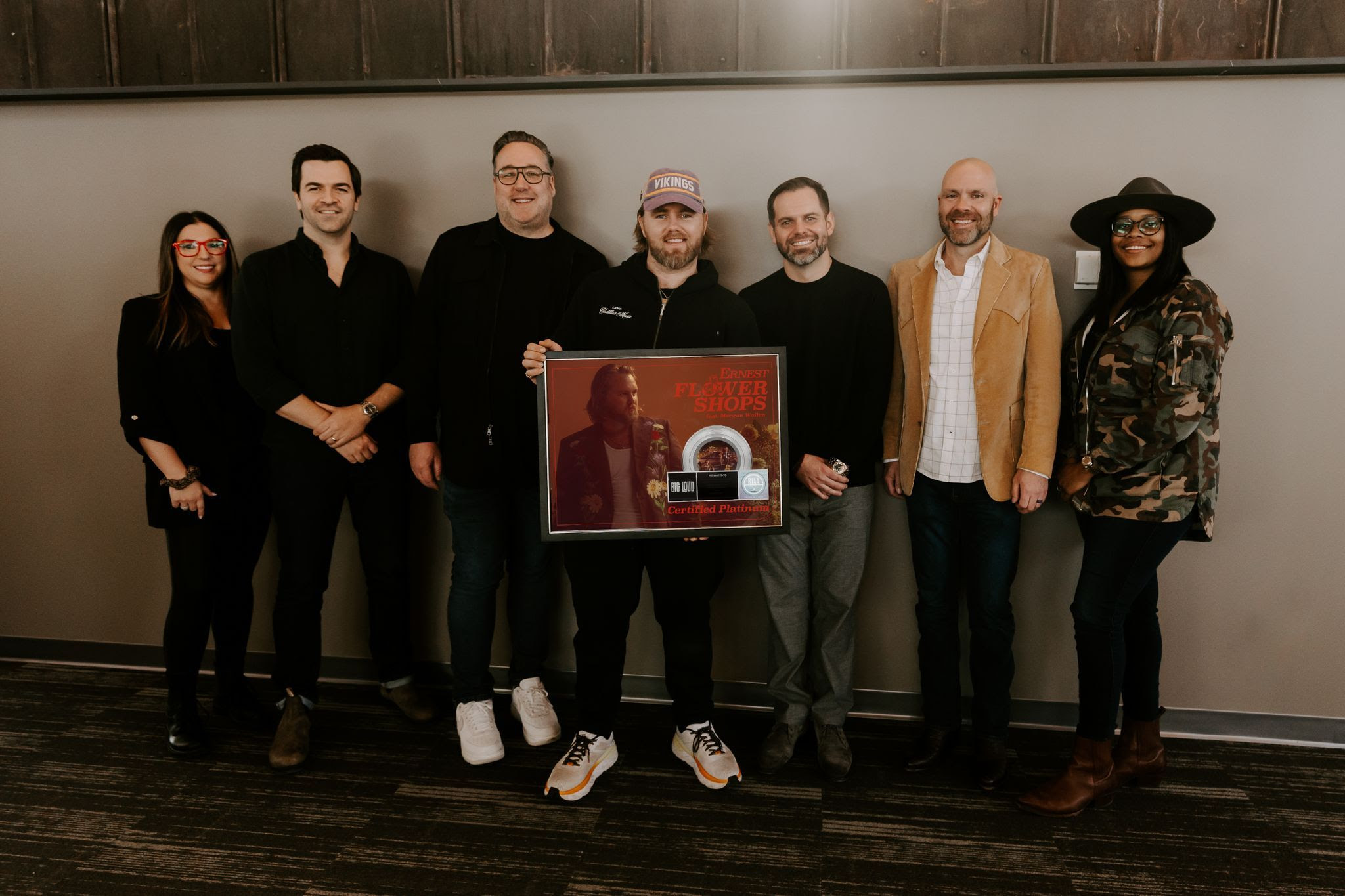 ERNEST celebrates "Flower Shops" earning RIAA Platinum Certification  | Image by Brayln Kelly | Download Here
PHOTO (L-R): Stacy Blythe (SVP of Promotion, Big Loud Records), Patch Culbertson (GM/SVP, Big Loud Records), Joey Moi (Partner/Producer/President of A&R, Big Loud), ERNEST, Seth England (Partner/CEO, Big Loud), Austen Adams (COO, Big Loud), Candice Watkins (SVP of Marketing, Big Loud Records)
ERNEST | Image by Delaney Royer | Download HERE